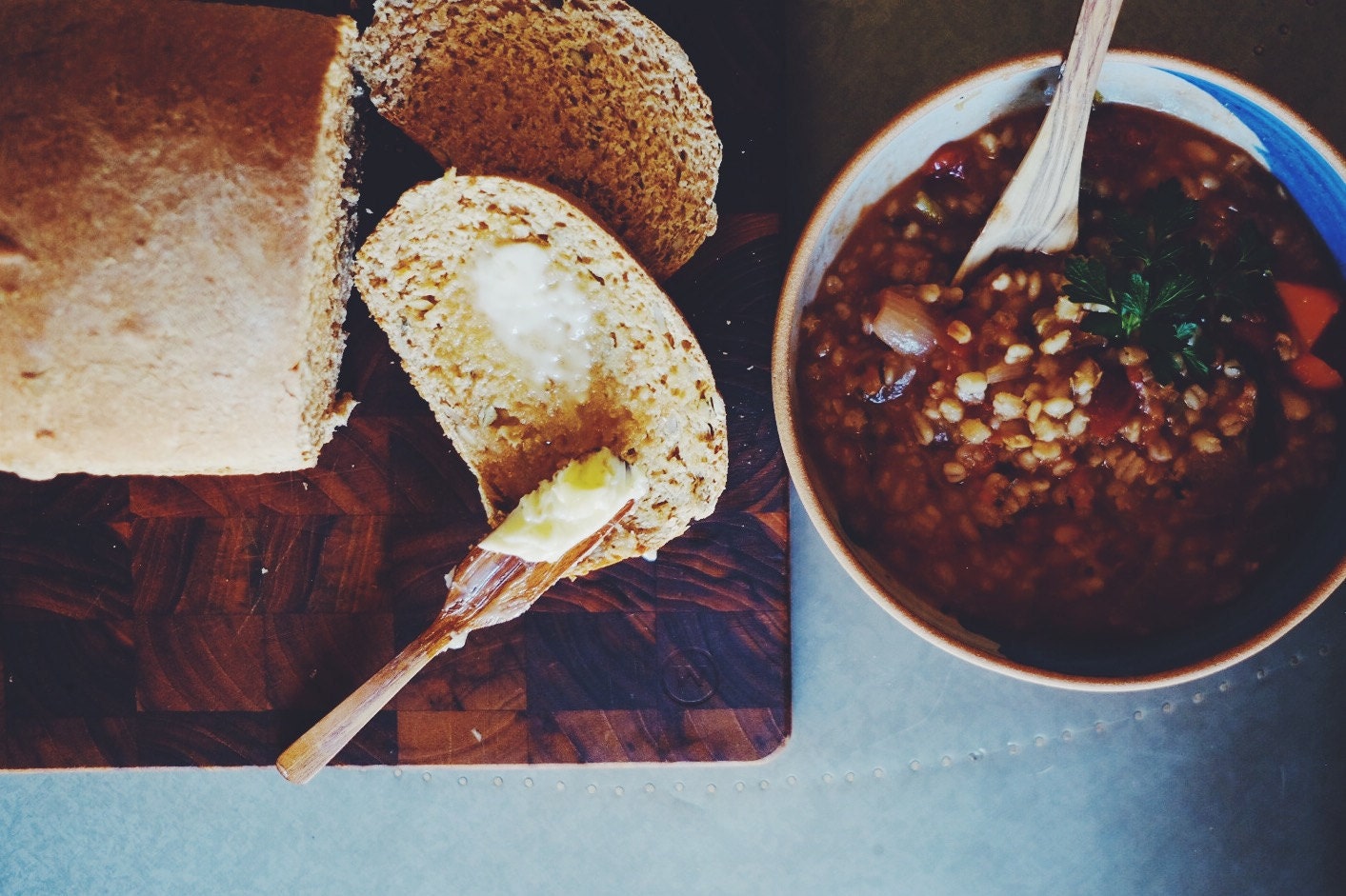 The heat has finally broken here in Austin. That means it's not 110 out and you can actually wear clothing without feeling like your swimming in sweat. It also means it's Stew-oup time! I love soup and stews, and making them is a real pleasure. The house smells of fresh herbs and cooking onions. Veggies from the garden go into the pot of hot broth and oil. All good things.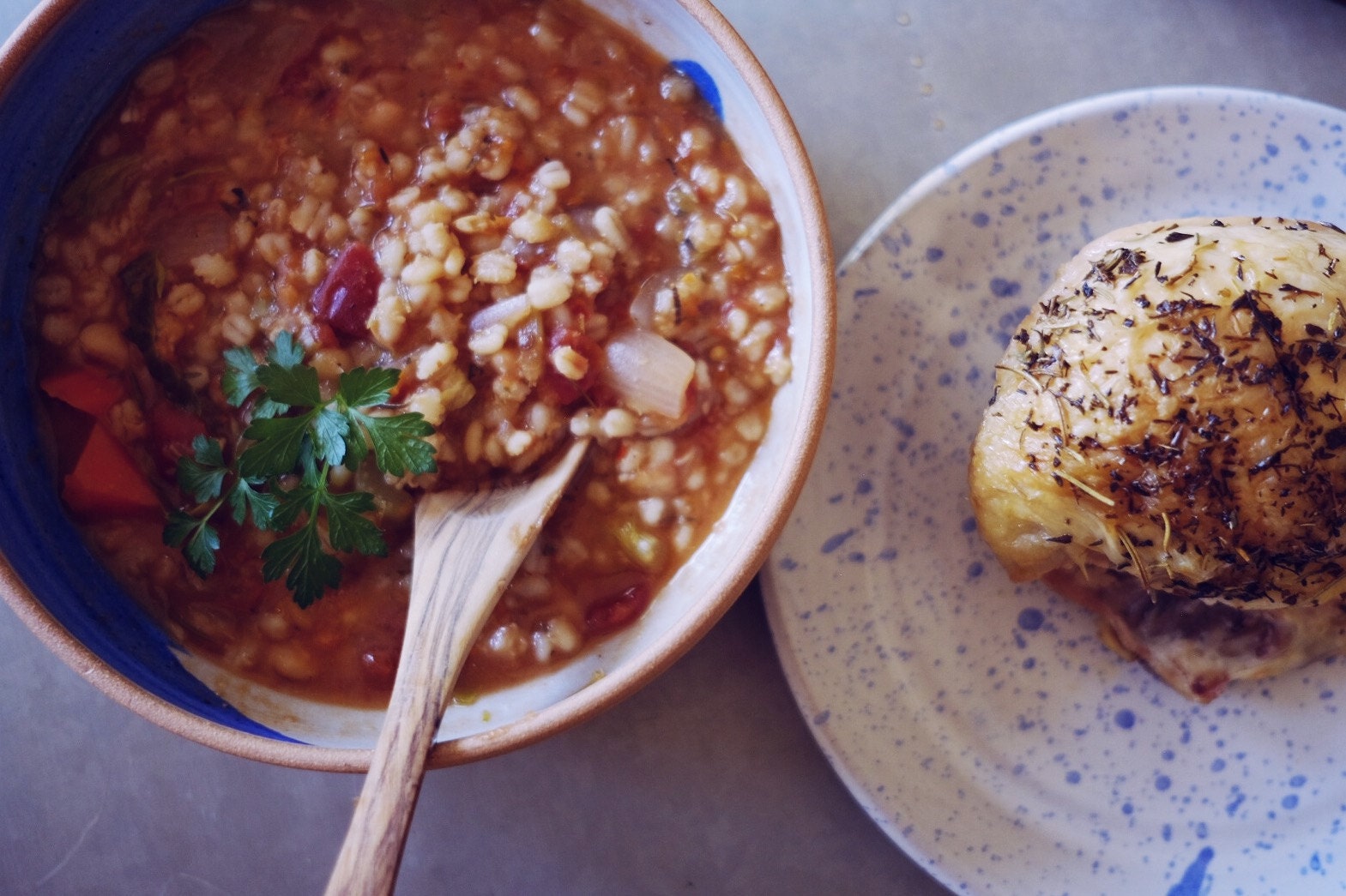 Last night the desire hit with a fury, and I started digging through my fridge looking for things to throw in my Le Creuset. I decided to make a Barley White Bean Soup. You start with the onion and garlic in olive oil. Thats when the aroma starts to build. Then you add the carrots and celery. Let them get happy, brown and fregrant. Once everything is jibing, you hit it with Stock, I used veg, but whatever you have on hand will work. Tomatoes come next. Now I'm not picky with my tomato selection I love all tomatoes. In my eyes tomatoes can do no wrong. This time though I used a carton of rustic died tomatoes. Beans are next to arrive to the party. Drain and rinse them. Toss them in. I took my hand strainer and scooped out about half the veg and hit it with the immersion blender. Once smoothish, add the reserved veg back in along with an 8 ounce bag of barley. As far as seasoning goes, I salt and pepper throughout the process to taste, along with garlic powder, onion powder, chili flake, dried rosemary, parsley, oregano, and tarragon, and a bay leaf. I would periodically add some more water as the barley cooks. After adding everything I hit it with chopped brussel sprouts. And now you wait. The waiting time is best spent baking some home made bread to dunk in said soup. I went with a whole wheat loaf with honey and pumpkin and sunflower seeds.  Its a real simple loaf bread that you can make in as little as two hours. Once baked dole out some soup into a bowl and butter some bread.... and dig in!!!
Barley and White Bean Soup
Serves 8-10
1 10 ounce bag of Barley 
1 32 carton of Broth ( Veg or Chicken)
1 Can for Northern White Beans, Drained and Rinsed
2 Cans Stewed Tomatos
2 Tbsp Olive Oil
1 Medium Yellow Onion, Roughly Diced
3 Cloves of Garlic, Diced
6 Stalks of Celery, Chopped
6 Carrots, Peeled and Chopped
1 Tbsp Garlic Powder
1Tbsp Onion Powder
1 Tsp of Chili Flake ( More if you like heat)
1 Tsp each of Tarragon, Rosemary, Oregano, Parsley
1 Bay Leaf
1 Tsp Celery Seed
1/2 lb Brussel Sprouts, Chopped
Salt and Pepper to Taste
2-4 cups water
In a Stock Pot heat oil on medium heat. Add onion and garlic, cook stirring occasionally for 3-4 mins till soft. Add carrots and celery, cook stirring occasionally for another 5-7 minutes till slightly softened. Add salt and pepper. Add Broth to the pot scrapping up any brown bits stuck to the pot. Add tomatos and beans. Using either at slotted spoon of a hand seive or spider, remove half the veg from the broth. Blend whats left with an immersion blender for 1 minute, so that its not quite smooth. Add reserved veg back in the pot along with the dried barley and all of the seasonings. Add 2 cups of water and let simmer, add more water as needed while the barley soaks up the liquid. Add extra seasoning to taste. Garnish with a slice of buttered bread and eat up!
Best served up in an awesome soup bowl like these:: https://www.settleceramics.com/listing/542025883/set-of-2-low-rise-soup-bowl